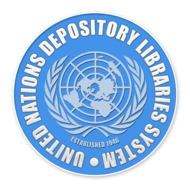 @

UNDepLibs
aka United Nations Depository Libraries Programme
Location
405 East 42nd Street New York, N.Y. 10017 USA
About
We provide support services to United Nations Depository Libraries around the world.
Since 1946, the Dag Hammarskjold Library of the United Nations Secretariat in New York has arranged for the distribution of United Nations documents and publications to users around the world through its depository library system.
There are United Nations depository libraries in many countries maintaining United Nations material from the date of designation as depository to the present. The general public can consult the material free of charge at any depository library.
https://library.un.org/content/united-nations-depository-library-programme
124 notes
0 places