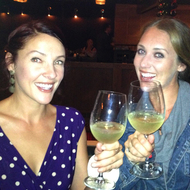 @

VoyageVixens
aka Lanee Lee & Lindsay Taub
Location
Everywhere
About
We're planning our dream trip to Australia in 2014 and need your help in finding quirky, adventuresome places to visit. Three cheers for #VoyagetoOZ!
Together, we've been to more than 42 countries on 4 continents, always in search of gritty girlfriend getaways, romantic luxury, high octane adventures, indie art scenes, musical mayhem, wild characters, and cultural immersion that leaves our curious souls satisfied.
Follow Lanee on Twitter @wanderlushdiary, Instagram @laneelee and Lindsay on Twitter & Instagram @lindsaytaub.
Twitter: @VoyageVixens
39 notes
0 places